Arguably, the most important visual aspect of a window are the views they provide. Our aluminium super slim windows are all about the view. With incredibly slim frames, the glazing takes centre stage, providing a full, unrestricted view.
There is no better material than aluminium to create our super slim windows due to its strength and ability to be moulded so easily. Our aluminium super slim windows are beautifully designed for a minimalistic look.
Aluminium Windows
There are many standout features of our aluminium windows that are worth noting. With unparalleled style and matchless performance, you'll be blown away by their modern attributes.
Browse the many exciting features by clicking the hotspots opposite.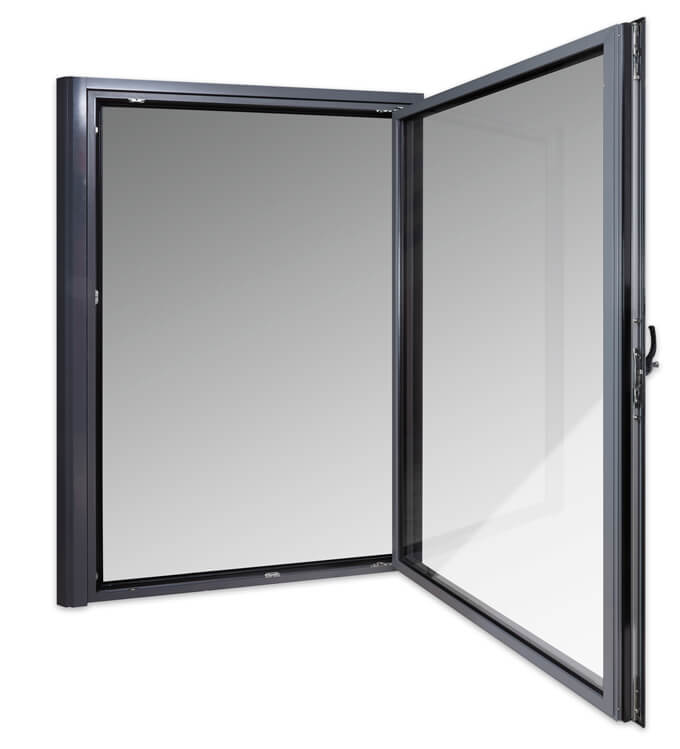 Eclipse Hinge
Our highly engineered hinge provides increased load bearing and features unique anti-crowbar technology, providing a lifetime of protection and reassurance. With 90 degree opening and Egress easy clean as standard, window maintenance has never been so simple.
Eclipse Glass
High performance, next generation glass offers excellent energy efficiency. With an ultra-clear outer pane, and a super soft coat inner pane as standard.
Eclipse Frame
A true declaration of style. Our low density, slimline frames are perfect for a clean, modern appearance, but are also built with the strength to withstand even the harshest of weather conditions.
Eclipse Locking
The sophisticated multi-point lock within the Envisage system ensures the window is fully secure when locked. Featuring our patented 'Secure It' mechanism, the window was tested over 30,000 times during the development stage.
Eclipse Weather Seal
Dual density and high elasticity for twice the coverage of standard windows. The Eclipse flush casement range boasts long lasting airtight protection from the elements and added noise reduction.
Maximise the external view
Aluminium is incredibly long lasting, robust and has sleek sight lines, making it a perfect choice when using a substantial amount of glass. Windows made from aluminium are gaining in popularity due to how modern they look and feel.
The slimmer profile frames, in comparison to UPVC, means that more natural light will enter your home creating a spacious and airy living space.
TAKE CONTROL OF THE DESIGN
We let your style preferences guide us in the overall design, with you getting the final say on everything. We can present you with a number of options for you to choose from when it comes to finding your perfect finish, glazing and hardware.
Choose your desired finish…
All our powder coated aluminium finishes are of the highest quality, and are fade resistant. The rich texture and colour you find on our aluminium is attainable thanks to the 11-stage powder-coating process undertaken on every aluminium based item.
It is also possible to attain a woodgrain effect on aluminium as we can perform a treatment called sublimation, this allows us to produce walnut, oak and rosewood finishes that look exactly like timber.
Choose your favourite type of glass…
Modern day windows with double or triple glazing are highly energy efficient and will add character and value to any home. We offer a range of plain and unique glazing designs to create a window that's bespoke to you. Your home should be a place where you can shut yourself off from the outside world and this can be achieved by the fitting of privacy glazing. It's a fantastic solution particularly in areas such as the bathroom and entrance into your property, as it will prevent people from being able to gaze into your living space. It can be utilised in both double and triple glazing and despite its purpose, will still draw in a generous amount of natural light.
Get a handle on our assortment of hardware
Add your chosen handle to our aluminium windows and see the design come to life. As well as being an integral practical feature, handles can inject style and personality to your windows.
We stock a real mixture of handles, from the popular classics to the quirky designs. Whatever your preference, each handle has been made with the utmost care and precision.
REQUEST YOUR FREE QUOTE
Simply fill in your details for your free, no obligation quotation, and click "Get Quote"
NEED MORE INSPIRATION? REQUEST A BROCHURE
Simply select the brochure(s) you would like to browse, fill in your details, and then click 'Download'.
Step 1 - Please select the brochure(s) you would like:
OUR FINANCE CALCULATOR
See how affordable your home improvement can be with our Finance Calculator.
Our friendly team will be pleased to help with any questions you may have.