COUNTY ORANGERIES
Never underestimate just how much a brand-new orangery can transform your home in Kent and Sussex, adding thousands to your property's valuation and issuing you with the additional space you've always craved. At County, we are experts in living spaces and have been improving homes for over 40 years. We are experienced in handling every aspect of an orangery installation, including joinery, electrics, and all your plumbing needs. We are pleased to offer bespoke orangeries in Hardwood Timber, UPVC and Aluminium.
If you are looking for a traditional-looking orangery with market-leading, modern features, our UPVC orangeries are ideal.
All our orangeries are bespoke, so they can be modified to your exact requirements, with special consideration to how you plan to use your orangery and your style of home, whether it's a contemporary or period style property. Typically featuring more brickwork than a conservatory, orangeries provide homeowners with more privacy, providing the perfect place to relax in.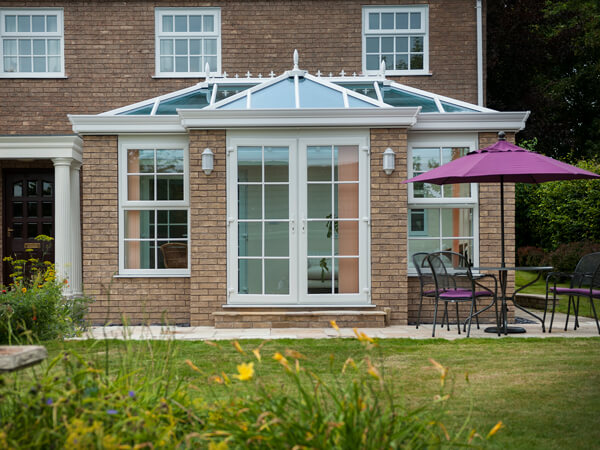 A timber orangery will add a cosy, warm feel to your property in the South East...
Whatever style of home you have, whether it feels more traditional or contemporary, a timber orangery will be a welcome addition. As our orangeries are bespoke designs, our talented designers can modify the style to complement your home. An orangery should create an effortless transition between your home and garden and using a natural material helps to instigate this more seamlessly.
As our timber is carefully picked from well managed sources, you can be confident in the quality of our timber conservatories, which can be selected in several finishes. County will take care of the full project in all its entirety, which include managing the official Local Authority paperwork and co-ordinating with all relevant tradespeople to ensure your orangery has heat and electricity.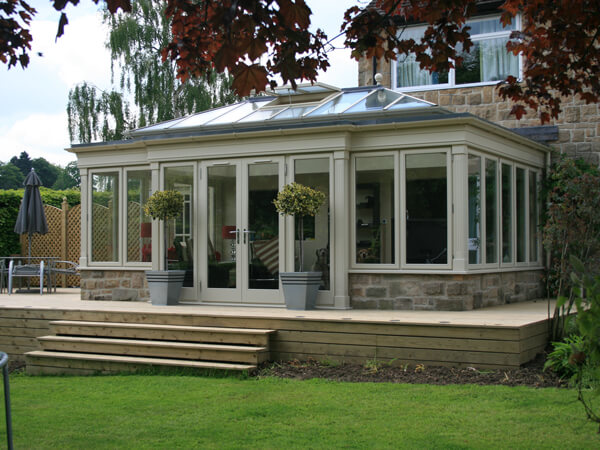 For a minimalist, contemporary look, there's nothing better than an aluminium orangery.
County will design and install the perfect aluminium orangery in your home, using premium materials and innovative tools. With endless design possibilities, we can help you select an orangery that will complement your property, whether it has more of a traditional or modern feel.
Aluminium products are sleek and slender, leaving lots of space for glazing, and with more glazing comes more natural light. We can add our bi-folding doors for a full, unobstructed view of the outdoors, creating a haven for relaxation.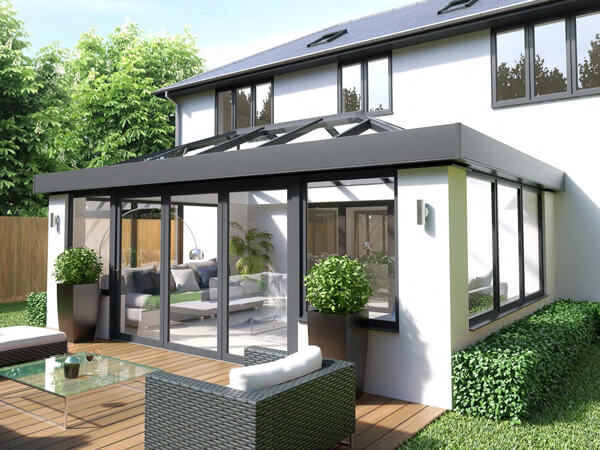 Choosing between an Orangery or Conservatory?
Often, one of the biggest decisions County customers need to make is whether they would prefer an orangery or a conservatory. An orangery has more brickwork, less glazing, therefore providing a more private feel. It is also traditionally designed to look like an extension of your existing building.
We have a variety of designs to suit any home. If you're looking for an elegant, traditional styled orangery then why not try our classic designs, with brick-built pillars and a typical central glass lantern. Alternatively, opt for a modern orangery featuring an opening in the roof and super-thin, thermally efficient frame makes the perfect choice. There is also the option to go bespoke.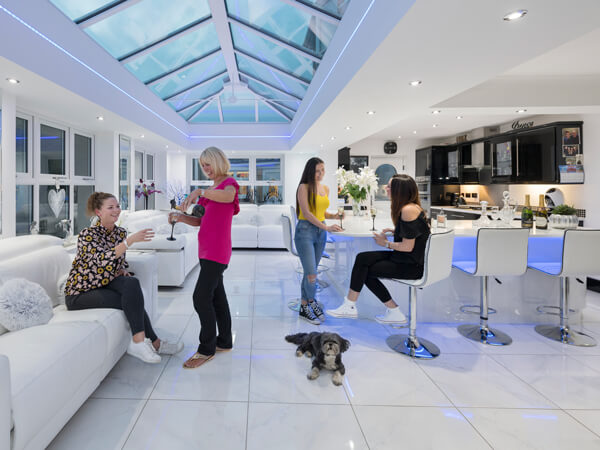 Orangery features
A County orangery is designed to be used throughout the year – a comfortable living space for the entire family to enjoy. There are no limits on time of day or time of year in our temperature-controlled orangeries.
View the many features of a County orangery by clicking on the multiple hotspots opposite.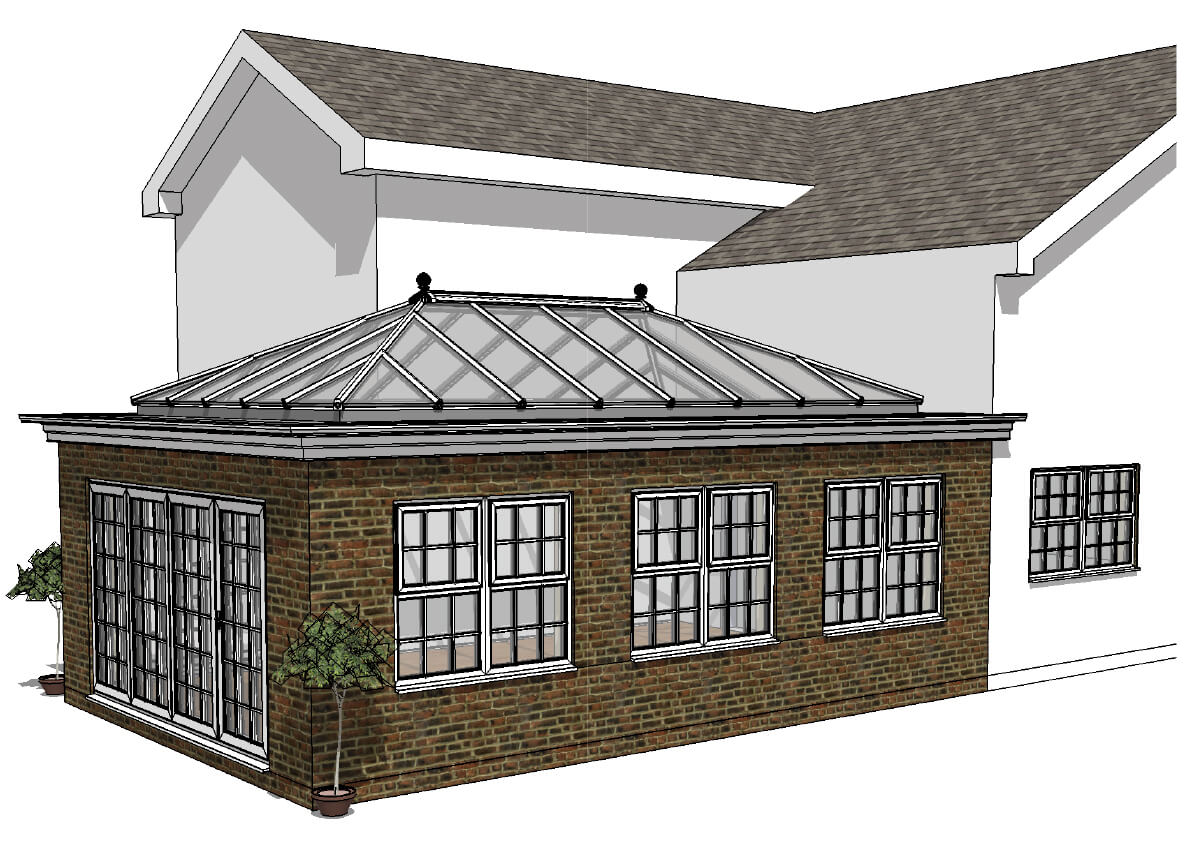 Brick Pillars
Incorporating brick pillars alongside large windows and feature doors to create a perfectly coordinated addition to your existing home.
Security
We offer a full range of high-security locking systems and accessories to ensure that your home will be protected from the threat of break-ins.
Glass
High performance, solar control glass offers excellent energy efficiency. With an ultra-clear outer pane, and a super soft coat inner pane as standard.
WE CAN HELP YOU GET LOOK YOU WANT
When you picture an orangery in relation to your home, does it imitate the look of the building, or does it seek to showcase the garden or patio instead? Don't worry if you can't figure that out just yet – our advisors are here to help..
Discover County's magnificent range of UPVC colour finishes to enhance your orangery...
Choosing the colour for your orangery should be fun, especially when you aren't restricted with the number of choices available. We have a wide assortment of shades, from muted tones to vibrant hues. When finding the perfect colour finish, it is your chance to let your personality shine through.
Add charm to your orangery with one of our many colour finishes...
In addition to our coloured woodgrain range, we can create or match any colour you like for your County orangery. We will happily match an RAL colour of your choosing – just speak to an advisor for guidance. The colour coating is a specially developed paint that is sprayed on and bonds perfectly to the UPVC, giving a smooth satin finish that forms an extra protective coating that never needs re-painting.
County's colour finishes are as striking as they are varied...
Choosing your colour finish is one of the most exciting parts of the process. Due to our extensive assortment of colours, you'll be spoilt for choice. There's truly something for everyone in our range, from vibrant, daring colours to more neutral shades. If you love the timber look, we have finishes that imitate the woodgrain effect beautifully.
If you choose to go with a timber orangery, you have over 30 colours to pick from. County customer favourites include limestone, sage green, harbour blue, light oak, and granite.
Illuminate your timber orangery with our many colour options, designed to add character and personality...
County has a vast collection of colour possibilities for your timber orangery, with around 30 shades in total. Our colour options include sage green and harbour blue, along with the more natural shades of light oak and granite, so there's something for every homeowner in the South East. If you can't find the perfect colour in our range, we also give the option of colour matching any RAL colour.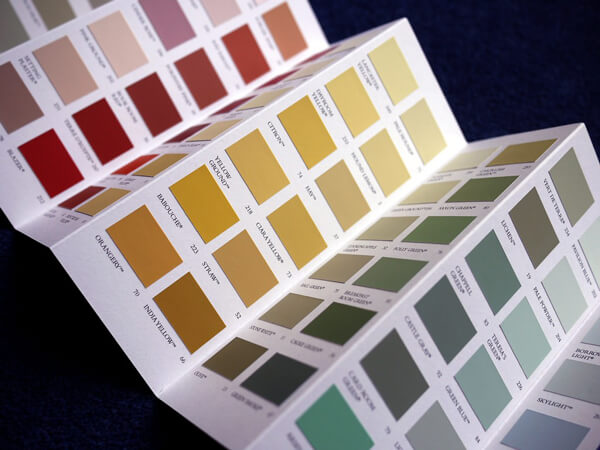 An orangery is a place you should enjoy in total comfort...
When it comes to selecting the roof for your orangery, you have four options: the Classic Roof, Cornice Roof, Tiled Roof and Lantern Roof. All four designs have their advantages and will add value to your orangery. When choosing the roof, think about the orangery you would like and how you would like to use the space. Then simply visit one of our showrooms to take advantage of our free design and consultation service. We'll create the plans on a computer so you can see how your new orangery and roof will look from every angle.
Crafted window handles for your new window frames...
Lovingly made by experienced craftspeople, our handles have been crafted in a range of classic and modern styles to suit every kind of home.
To keep your home secure, each individual handle has a secure locking system built in, giving you full peace of mind.
Traditional Orangery or Contemporary Orangery?
Here at County, we offer beautiful, modern orangeries at extremely competitive prices. If you are hoping for a more cost-effective solution, with all the bells and whistles of a traditional orangery, consider our contemporary orangeries. From the inside, there is virtually no difference between the two types of orangeries and a modern orangery is still based on the solid brick structure of a traditional orangery.
So, what's the difference? The main difference is that there is no flat perimeter around the roof on a contemporary orangery, unlike our traditional version.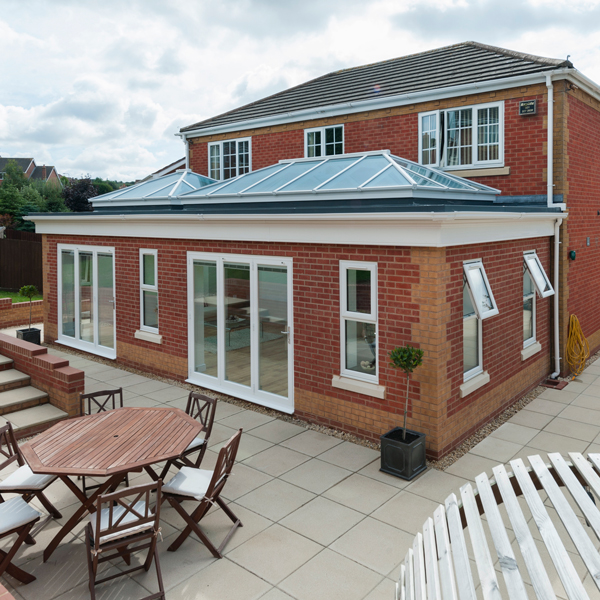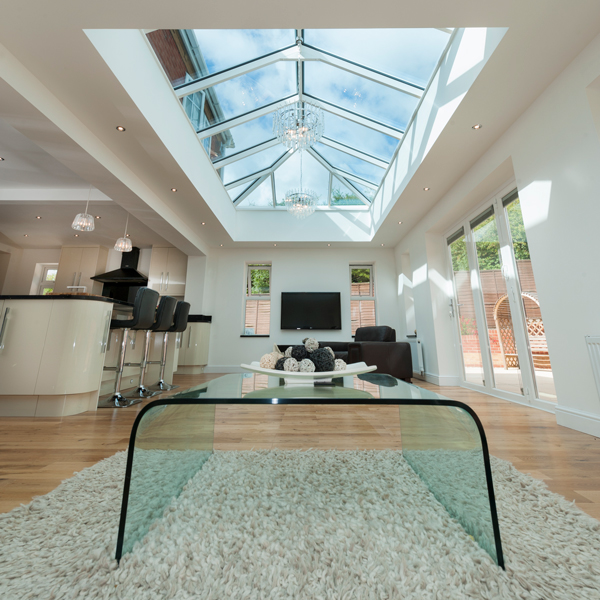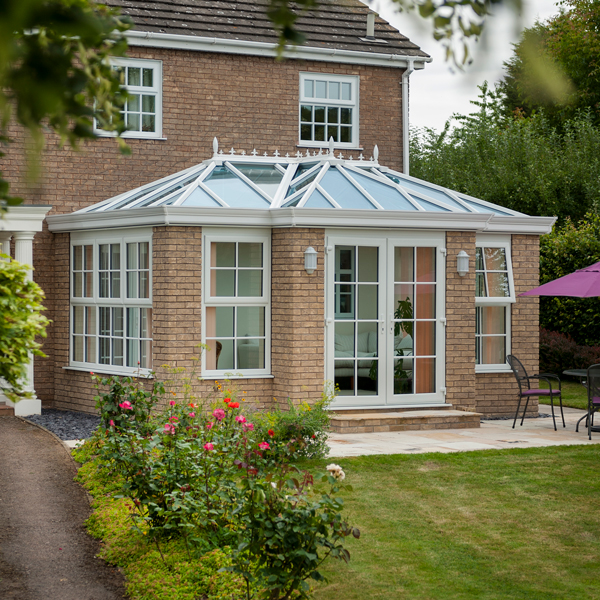 Get The Look!
Advances in roofing technology means that modern glass roofs still look stunning, but in terms of performance, they work far more effectively and energy efficiently. Our intelligent glazing means you can use your orangery throughout the year, regardless of the season.
We have one question
Let our team of advisors know if you would prefer your brand-new orangery to reflect your home's image or showcase your garden space instead? Whatever your answer, County has the solution.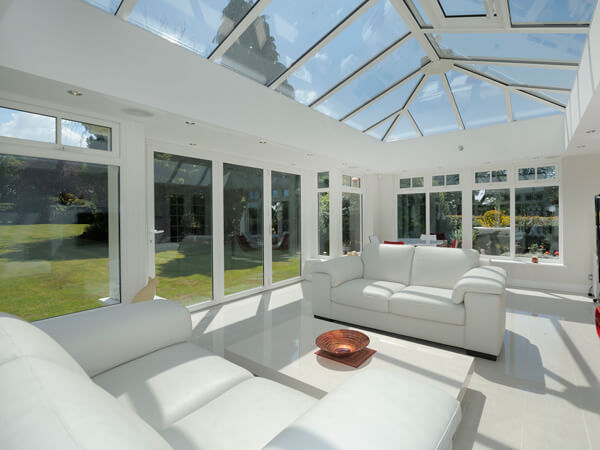 REQUEST YOUR FREE QUOTE
Simply fill in your details for your free, no obligation quotation, and click "Get Quote"
NEED MORE INSPIRATION? REQUEST A BROCHURE
Simply select the brochure(s) you would like to browse, fill in your details, and then click 'Download'.
Step 1 - Please select the brochure(s) you would like:
OUR FINANCE CALCULATOR
See how affordable your home improvement can be with our Finance Calculator.
INSPIRED? GET A FREE QUOTE TODAY!
Simply fill in your details for your free, no obligation quotation, and click "Get Quote"
Our friendly team will be pleased to help with any questions you may have.